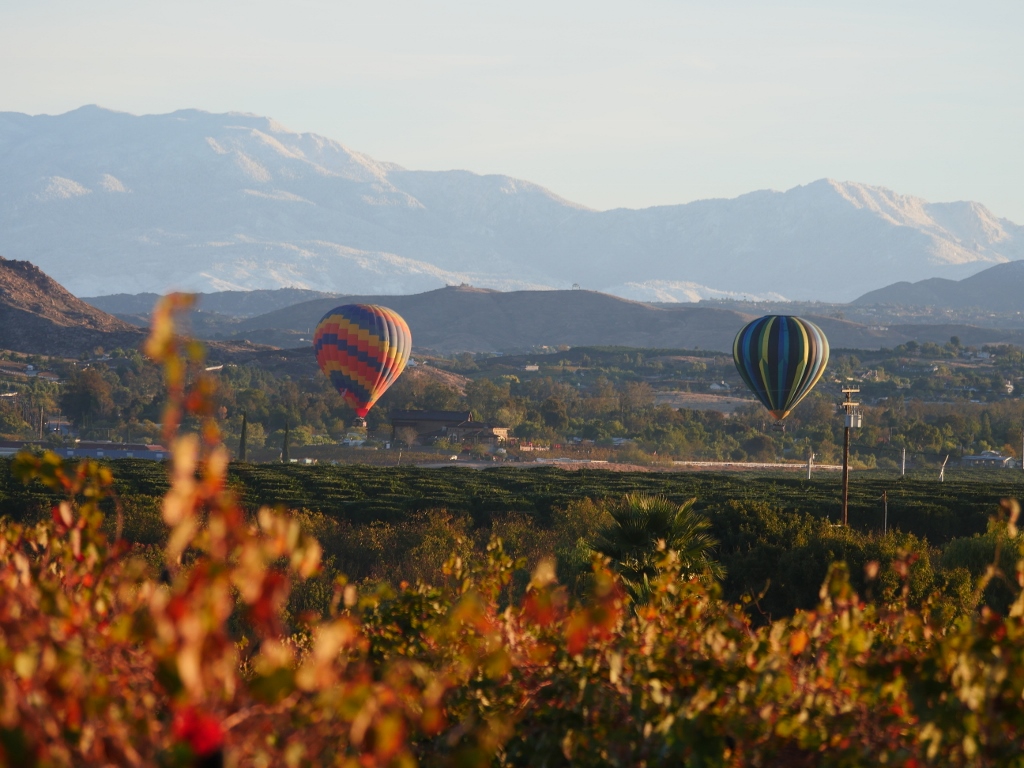 This was our first trip to the Temecula Wine region of California. We stayed at the beautiful Carter Estate Winery where we had vineyards, snow-capped mountains and hot air balloons outside our room. Make sure you visit the tasting room as the wine is very good too. Only six bird species but enjoyed seeing this Say's Phoebe in the vineyard.
The next morning we met up with the San Diego Audubon for the Whelan Lake Bird Sanctuary walk around the lake and adjacent water treatment plant. There are so many highlights in the 59 species observed during the four-hour walk. We picked up some of the western birds we hoped for: Eared Grebe, White-faced Ibis, White-throated Swift, and White-tailed Kite. A Spotted Towhee in the bush is unusual here. Many kingbirds in the burn area and good looks through a scope at a Vermillion Flycatcher. See eBird list.
San Diego Area
After a quick lunch, we headed to the San Diego River tidal flats. Luckily, we met a nice lady birder name Michelle who knew the location very well. This was another great stop with 49 species and a very nice assortment of shorebirds including Whimbrel, Long-billed Curlew, Marbled Godwit and lots of peeps. It was disturbing to see the ground squirrels causing erosion to the river bank and dogs walking in some beach areas the birds prefer. Our target birds were the Lapland Longspur (no) last seen on November 27th and American Pipits (yes 18!). The highlight ended up being a leucistic Brant. See eBird List.
We stopped at Point Loma to check out the lighthouse and great views of downtown San Diego. Not much happening in the tidal pools, the best bird is this Greater Yellowlegs. This is a great spot for a sunset view. While there, we picked up the lifetime National Park admission card which has been on our 'to-do' list.
Mountain Birding
We were hoping for snow and headed to the San Jacinto Mountains. The Idyllwild Nature Center was set up for snow days for the local families. We found a little parking area away from the crowd and picked up the Mountain Chickadee, Pygmy Nuthatch, and our target White-headed Woodpecker.
Afterward, we had a nice lunch with pork belly bao rolls and fried rice at the Mile High Cafe (highly recommended with awesome American and Asian fare). Next, we stopped at McCall Memorial Park where we met the camp hosts and saw a few good birds. We had stunning views of the valley below, Northern Flickers, and Stellar Jays.
Desert Birding
With coastal and mountain birding done it was time to head for the desert. On the way to Joshua Tree, we stopped at the Big Morango Canyon Preserve. Another 17 good birds while checking the bird feeders and walking the trails and boardwalks through Cottonwood and open desert vegetation. New year birds included Oak Titmouse, Verdin and Rock Wren.
At Joshua Tree National park we got to use our new park pass. We birded the Black Rock Campground and found Loggerhead Shrike, Cactus Wren, California Thrasher, and Phainopepla.
Next was Mike's birding on his own. An early morning drive through Griffith Park found the usual suspects: California Scrub-Jay and Towhee, Bushtits and a nice Oak titmouse at the end. The next stop was one of our past favorites, White Point Park where he added Black and American Oystercatcher. Nearby at Cabrillo Beach pier were Black and Surf Scoters as well as too many Grebes to count.
For our last night, we had dinner at the best sushi place in Burbank, NiKo Niko. We met an upcoming musician Chris Spino whose band Coma Girls recently relocated from Atlanta. Their sound is a modern version of 60's style rock. Check out the video Car Alarms. Also at dinner was the very interesting clown in the video.
We always have a great time birding in California. This trip we even added four California life birds: Little Blue Heron, Common Gallinule, Rock Wren and Vermillion Flycatcher. There is always something new and interesting to see.
Trip Birds: 113 Year Birds: 18 Life Birds: 0
Next Up: Back to Northeast Florida